diner524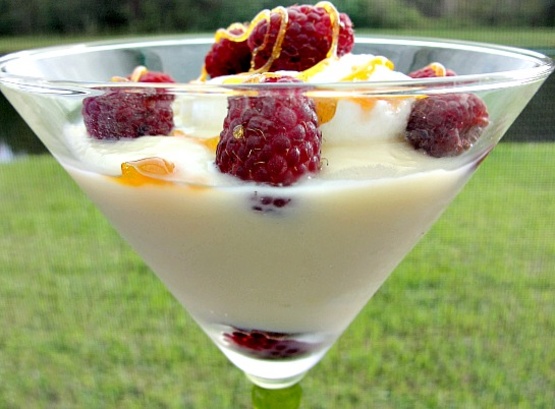 Custard topped with poached meringue, sprinkled with raspberries and drizzled with crispy caramel. You can prepare custard and meringues up to a day ahead storring custard, meringues and berries separately in airtight containers in the refrigerator.
Wonderful dessert!! Loved the homemade custard and fresh raspberries. I made 1/4 of the recipe as there is just the 2 of us. Wasn't as fond of the meringue being poached versus baked in the oven. Next time I think I would try to bake it on parchment paper and then slide it off and onto the top of the custard. It would add a bit of color and a better texture in my opinion. Thanks for sharing the recipe. Made for "Help A Naked Recipe" in the Photo Forum.
In a 2 to 3-quart pan, mix 1/3 cup sugar and cornstarch. Add milk and egg yolks; whisk until smooth. Whisk over high heat and mixture boils At once,next pan in ice water; stir often until cool, about 9 minutes. Stir in kirsch (or vanilla).
Meanwhile, in a deep bowl, with mixer on high speed, whip egg whites with cream of tartar until foamy. Continuing to beat, gradually add 2/3 cup sugar, 1 tablespoon at a time, and beat until mixture holds stiff,m glossy peaks, about 6 minutes total.
In a deep, 10- to 12-inch frying pan over high heat, bring about 1 1/2 inches of water to a boil; reduce heat to medium. Using a large spoon, scoop up about an eighth of the meringue at a time and push from spoon into simmering water. Fill pan with scoops of meringue without letting them touch each other (they will expand slightly). Cook until bottoms of meringues are firm to touch, about 1 minute. Turn over and cook until firm to touch on the other side, about 1 minute longer. With a slotted spoon, lift meringues from water, drain briefly, and set slightly apart in a rimmed pan or dish. Repeat to cook remaining meringues (they shrink slightly as they cool).
Spoon the custard equally into dessert bowls. Add a poached meringue to each bowl and sprinkle with raspberries.
Place remaining 1/2 cup sugar in an 8- to 10-inch frying pan over high heat. Shake and tilt pan often until sugar is melted and amber-colored, 3 to 4 minutes. At once, spoon the hot caramel over meringues; don't let it touch the bowls. Caramel immediatelyl becomes crisp and brittle, but softens and begins to melt after standing.
For crisp caramel, serve immediately; for softer caramel, cover and chill up to 1 hour.