Bergy Dim Sum #10, Honey Soy Braised Chicken Wings
twissis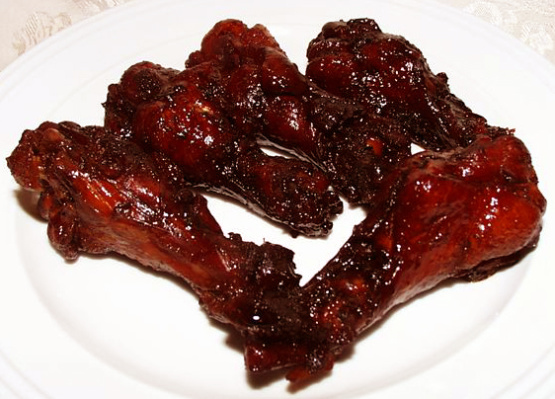 MMMmm these are tasty wings, sticky but tasty. Excellent as an appetizer or part of your Dim Sum Brunch. Have them as part of your home cooked Chinese dinner.

VERY GOOD !!! Just like what I've had in Chinese restaurants. Thank you Bergy !!!
Cut wings intp three pieces (save tips for making stock).
Heat oil in wok and fry the larger joints on high heat for 3-4 minutes or until browned.
Add Soy, Honey, Wine, Garlic and Ginger, stir well.
Reduce heat to low, cover and simmer for 30 minutes or until the wings are tender.
Towards the end watch the wings carefully, stir frequently to make sure the glaze does not burn.
Serve warm or at room temperature.