Bergie's Crock Pot Pheasant
teresas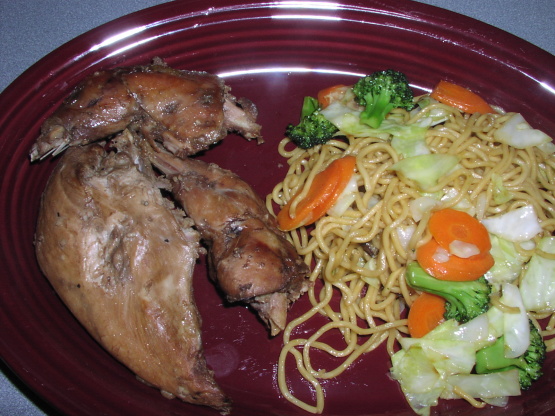 This recipe produces a delicious, moist, tender bird. It is important that you marinate the bird for the full 24 hours.

This recipe was a great hit with my guests and I will make it again. I was searching for a good pheasant recipe and believe I have found it. In the past, my pheasant has turned out dry and tough. Using this recipe the pheasants were tender and moist. Next time I may use a tad bit more Liquid Smoke or a add a few drops in the water when cooking. Thanks for the great recipe.
Skin the pheasant and wash.
Put pheasant in a large bowl with the salt and cover with cold water.
Soak at least an hour.
Then discard the brine solution.
Cut pheasant into 4 pieces.
Mix Marinade ingredients in a large zip lock bag (big enought to hold the pheasant pieces).
Put pheasant pieces into the zip lock bag and put into the fridge.
Marinate for 24 hours.
Turn the bag every time you open the fridge.
Discard the marinade.
Put a 1/2 cup of water in your crockpot with the pheasant pieces.
You may want to add a little more water while cooking if it goes dry (A nice touch is to use a dry white wine instead of the water or mix Wine and water 1/2 and 1/2).
cook on low for at least 5 hours.