Berghoff Restaurant Creamed Spinach
KateL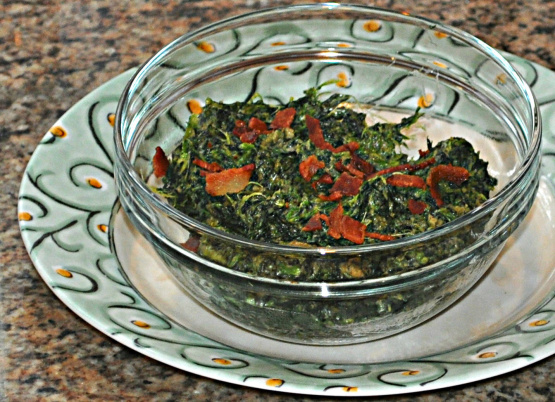 From the Berghoff Family Cookbook. This recipe was secret until after the restaurant closed in 2006. It was the only dish in the restaurant that was not made completely from scratch--they always used frozen spinach.

Top Review by KateL
4.5 stars. The taste is perfection, but this is a heavy vegetable side for us seniors. It took me 10 minutes to thicken the milk-roux mixture, so this dish required 20 minutes of whisking/stirring - quite a workout. Fact: we love steamed spinach, so we weren't completely won over to this method, as tasty as it was (all those extra calories...). Note: you can squeeze a lot of water out of thawed frozen spinach by lining a potato ricer (with small-holed plate) with cheesecloth, then storing the spinach overnight in the refrigerator, then pressing it again; or you could use a tofu press or a sushi mat. If you are trying to win someone over to spinach, this recipe might be the right lure. Thanks for sharing, Chocolatl, I imagine this dish was memorable for all who ate at Berghoff's. Made for 1~2~3 Hits tag game.
Place half-and-half, milk, chicken base, Tabasco sauce, nutmeg, garlic, and celery salt in a medium saucepan and heat just until simmering.
Remove from heat, but keep warm.
In a separate medium saucepan, heat butter over medium heat.
Whisk in flour.
Cook for 2-3 minutes, stirring often.
Slowly whisk warm milk mixture into butter mixture a little at a time, whisking constantly.
Simmer for 5 minutes, stirring constantly, until very thick.
Stir in spinach and simmer for 5 minutes.
Season with salt and ground white pepper if desired.
Garnish with bacon and additional nutmeg, if desired.