Bento Balls (Aka French Hamburgers)
RonaNZ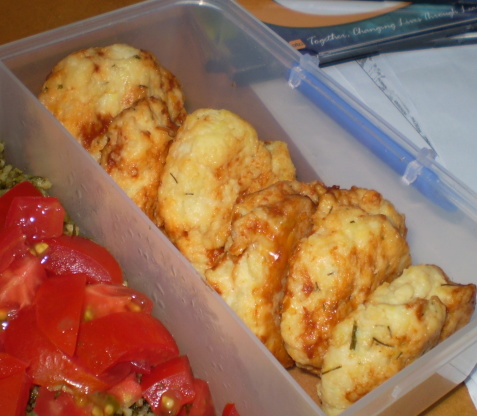 My kids and I spend Wednesdays out in the woods either hiking, biking, or letterboxing. We have to take a huge lunch with us and usually it's a Japanese-style bento with onigiri, some protein item, and lots of vegies and pickles. More often than not, my kids will pick this for the protein...it's basically a french hamburger recipe that has been adapted for our bento lunches. Cooking time will vary with how large your patties are. The sauce is a true basting sauce and these will not be in a soupy sort of base. The point of bentos is to make the food as fuss-free to eat as possible. The meat mixture is soft and a bit tricky to work with, but the result is a moist patty that doesn't need condiments and isn't a rubbery hard superball.

The 3 tablespoons of horseradish in this dish was overpowering. It tasted like strong seafood coctail sauce. I am willing to make this recipe again with maybe a quarter amount of the prepared horseradish.
MEAT PATTIES

236.59

ml fine dry breadcrumb

236.59

ml havarti with dill (grated)

44.37

ml prepared horseradish

44.37

ml dried onion

4.92

ml salt (or salt-spice mix of your choice, we prefer a Creole seasoning)

118.29

ml cottage cheese (or 1/4 cup dairy of some sort)

1

large egg

680.38

g ground turkey

BASTING SAUCE

118.29

ml butter (melted)

118.29

ml ketchup

14.79-29.58

ml soy sauce
Preheat oven to 350 degrees and prepare a baking sheet by lining with parchment or foil.
Lightly coat the parchment or foil with cooking spray.
Mix the bread crumbs, havarti, horseradish, dried onion, salt (or spice-salt mix), cottage cheese, and egg together in a large bowl. (Please note that the horseradish should be prepared, i.e., the creamy kind that is mixed with mayonnaise. We use the Beaver brand.).
Allow to stand for 5 minutes to soften the bread crumbs.
Mix in the ground turkey.
The meat mixture will be very soft.
Form the meat into balls that will fit into your bento box(or on your plate).
Flatten slightly so that the meat is formed into shapes resembling patties.
Place in the oven to bake for 20 minutes.
Meanwhile, make the basting sauce by combining the melted butter, ketchup, and soy sauce.
Carefully turn the patties over and put them back in the oven until 20 minutes before the meat is cooked through.
**********.
The time to finish cooking will depend on how large you made your patties.
I use a meat thermometer to check for doneness.
**********.
Approximately 20 minutes before the meat cooks through, baste one side of the meat with the sauce, returning to the oven for 10 minutes.
Turn and baste the other side and return to the oven for the remaining 10 minutes.
Let cool, add to your bento box, and have a great day hiking.