Bennigan's Chicken Quesadilla
Prep 10 mins
Cook 20 mins
I got this recipe from recipegoldmine.com and enjoyed it so much I wanted to share it. These were so easy, and as a novice cook, I was surprised to find the finished product was restaurant quality. I added the Pace Cilantro Salsa to the original recipe.
Directions
Fry chicken in a pan coated with cooking spray or olive oil.
After chicken is cooked, add water and seasoning to the pan.
Sauce will thicken slightly after a few minutes.
Set the chicken and sauce aside while preparing the other ingredients.
Butter one side of all the tortillas and set aside.
Dice the tomato and the onion, mix and also set aside.
Place a tortilla, buttered side down, on hot pan or griddle.
Layer ingredient in the following order on the tortilla: cheese, chicken and sauce, tomato/onion mixture, cheese, salsa.
Top with another tortilla, buttered side up.
Once the cheese starts to bubble from the sides of the quesadilla it typically is time to flip it.
Be careful to keep everything together while flipping.
I used a spatula underneath (in one hand) and some tongs to hold the quesadilla together (in the other hand) and flipped quickly.
Shell should be crunchy and a golden color.
If you find that the quesadilla is semi plump in the center, simply press down with spatula once you have flipped it.
Let stand for a few moments and then cut into quarters, serve with your choice of sour cream, guacamole or salsa for dipping.
Most Helpful
I place each tortilla in the pan, put all ingredients on half of each one and fold the other half on top!! Makes flipping them a breeze and nothing falls out. Just cut them in half and you're good to go.
We loved this recipe! Really easy and full of flavour. I even managed to flip my quesadilla without spilling everything out! The butter on the outside of the tortillas was so good, it made them lovely and crisp and gave them a gorgeous flavour. The fresh tomatoes and onions were a lovely addition and made them taste really fresh.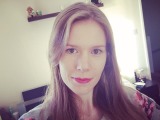 Awesome and easy recipe - I sauteed a medium onion in butter with a little minced garlic and served the salsa on the side rather than inside. Edited to say that I now use coconut oil to fry these babies up - it produces a lovely non-greasy texture that simply cannot be duplicated with butter.