Benito Bean Dip With Zippy Zonya Mexi Mix
Rita1652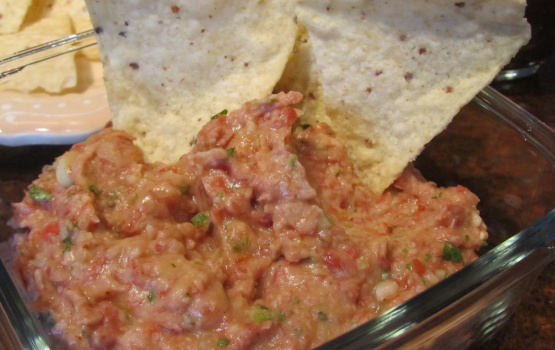 Entered for safe-keeping. From Heart-Healthy Living by BH&G, Winter 2008.
This was good dip that was easy to throw together. I used fresh crushed garlic instead of the powder, and eyeballed the rest of the ingredients. I probably used way more than a 1/4 teaspoon of seasoning, and it did not come out tasting overly seasoned. I also added chopped jalapenos, green onion and cilantro. With the pintos, this tastes like a lighter version of refried beans. The flavor improves a lot when served warm/hot, I thought.
PREPARE ZIPPY ZONYA MEXI SEASONING MIX:.
Combine all spices listed. (Leftover spice may be stored in a plastic self-sealing bag for up to 1 month.) The bean dip uses 1/4 teaspoon.
PREPARE BEAN DIP:.
In a food processor combine edamane, salsa, green onion, cilantro and 1/4 teaspoon Zippy Zonya Mexi Seasoning Mix.
Cover and process until mixture is smooth.
SERVE DIP WITH CHIPS:.
Serve with multi-grain tortilla chips.
Store in refrigerator for up to 24 hours.