Bergy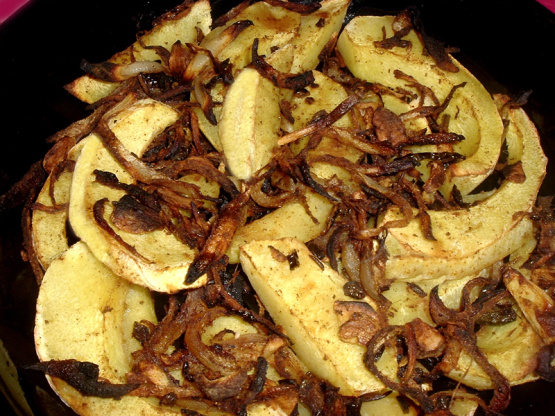 This recipe makes wonderful, spicy, roasted squash. It comes from the 'delicious' magazine (november 2004) and appeared together with a very simple roasted ginger chicken. The chicken was a little bit lacking in taste, so I decided not to post it before having the recipe adapted. The squash was lovely, though. I chopped the leftovers and mixed it together with some pan-fried red pepper, chopped flat-leaf parsley, a little bit of olive oil, and lemon juice into couscous which I had cold for lunch. Yummy!
Preheat the oven to 200°C/400°F/gas 6.
Cut the kabocha or butternut squashes into long wedges (I sliced the upper part of the butternut squash and halved the slices) and remove the peel, seeds and fibres from each piece.
Heat the sunflower oil in a large frying pan. Add the onion wedges, garlic, chilli and ginger to the pan and cook over a low heat for 5 minutes, stirring now and then, until the onions are just tender.
Add the spices and cook for a few seconds more.
Add the pieces of butternut squash and toss everything together until well coated in the spicy mixture.
Put the squash into a roasting tin and roast it for 35-40 minutes, or until the squash is tender and lightly browned around the edges.
This is delicious served together with roasted chicken and mint raita, made from chopped fresh mint into natural yogurt.