Bengali Chingri Malai Curry (Shrimp Milk Curry)
KateL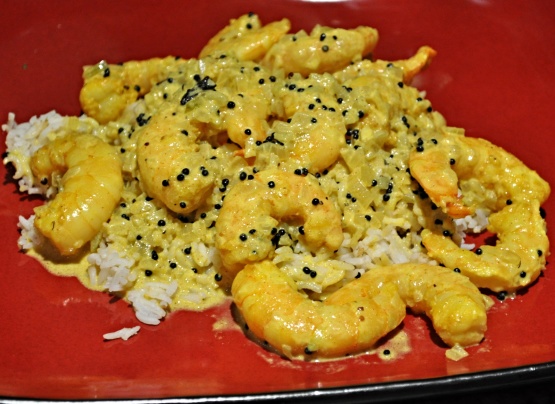 My mom being Bengali taught me how to make this recipe that I love to eat during winter time.

Top Review by KateL
What a great weeknight dish! Had all the ingredients on hand except the shrimp. While the shrimp marinated, I made Indian-style basmati rice in the Zojirushi cooker and prep'ed the remaining ingredients, with time to spare. I would rate the spiciness as "2-Alarms" (based on Wick Fowler's Two-Alarm Chili, which is as fiery as we can eat without adverse consequences). By Indian standards, this is not very fiery at all. So, for our tame tastebuds, DH declared that the recipe's spiciness added to his enjoyment of the dish and should be kept as is. (If we had needed to tone it down, we could reduce the cayenne to 1/2 teaspoon.) This one goes into our "A-1 Rotation" cookbook, what a nice find! Made for 2013 My Three Chefs.
Make a paste of turmeric, 1 tablespoon mustard oil, and salt. Apply the mixture to the shrimp. Cover and refrigerate for at least an hour.
Heat the remaining oil in a medium-sized saute pan over medium heat and saute the marinated shrimp for 3 minutes. Remove from heat and keep aside.
Heat the vegetable oil in a large skillet over medium heat. Add mustard seeds, cloves, cinnamon stick, and bay leaf. Cook, stirring constantly until it is toasted and fragrant (for about 2 minutes). Add chopped onions and cook till it is translucent (for about 2 minutes). Add cayenne pepper and 1/2 cup water and cook until the oil separates (for about 5 minutes).
Lower the heat and add the coconut milk and the sauteed shrimp. Simmer until the shrimp are cooked (for about 4 minutes).
Transfer to a serving dish and garnish with fresh coriander leaves and eat it with Basmati Rice.