Bengali Butternut Squash and Chickpeas Garbanzos
Rita~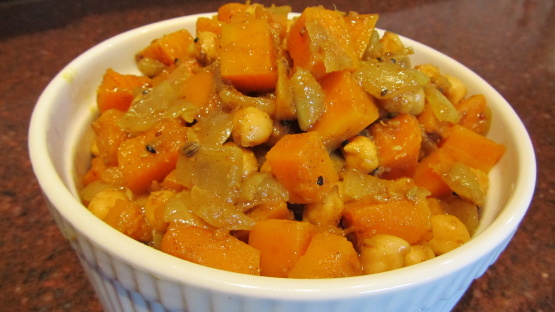 This recipe by Anjum Anand caught my eye. A vegetarian curry is made with butternut squash, chickpeas and the Bengali spice mixture, panch phoron (a blend of equal quantities of fenugreek, nigella seeds, fennel seeds, cumin and mustard seeds or celery seeds), also known as Bengali five-spice). I had most the ingredients so I was able to put it together quickly and easily. I did tweak to make the recipe work for us. Serve as a side or main over rice.

Great recipe, glad to have another use for the panch phoran. I wasn't sure if you meant the panch phoron should be whole or ground. I opted to grind my mixture up, and was fairly heavy handed with the amount. Nice easy recipe, could be made super quick with pre-chopped squash. I added some chopped greens during the last few minutes of cooking, just for a little extra colour and nutrition....had as a main course with some brown rice...really nice!
Heat the oil in a large non-stick pan over a medium heat. Add bay leaf, panch phoran and chillies and fry for 1-2 minutes, stirring well to combine.
Add the onion, stir to coat in the spices, and fry for 4 minutes, or until softened and golden-brown.
Add the ground turmeric, cumin and coriander, the salt, sugar and ginger and stir well. Add a 1/2 of water, stir and cook for a further 1-2 minutes.
Add the butternut squash pieces and 1/2 - 1 cup boiling water. Bring the mixture to the boil, then reduce the heat to a simmer, cover the pan with a lid and simmer for 10-15 minutes, or until the butternut squash is tender.
Add the chickpeas, ground garam masala and fennel seeds and another splash of water if necessary to keep the mixture loose. Add more salt and sugar, if you like, to taste. Stir well and continue to cook for 1-2 minutes, or until warmed through. Serve immediately.