Nikki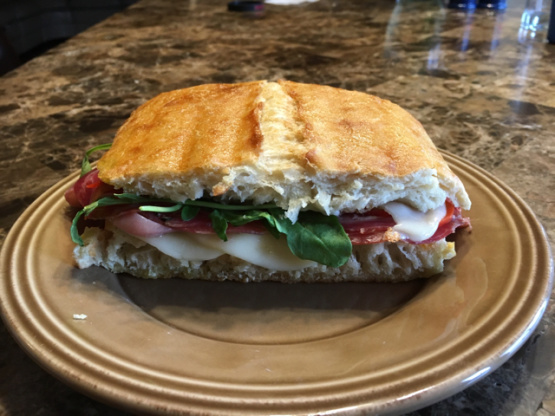 You do not need a panini press to make this sandwich, just use a skillet. From the cookbook "Delizioso: Panini the Italian Way"

I loved this sandwich! The red bell pepper added such a nice sweetness that contrasted well with the arugula. I bought Boar's Head prosciutto sliced razor thin from the deli. Delicious! Forgive me... but I served a little bit of horseradish mayo on the side and smeared it on as I was eating it. That was probably not a very authentic Italian addition but OMG! What a savory sandwich. This was my very first panini sandwich I and I am hooked. I had to use the primitive weigh it down with a cast iron skillet method but it worked. Mama Pot Scrubber will not stop carrying on about this sandwich! I've made her one for the last three days for lunch She loves it.
In a small saute pan over medium heat saute pepper and onion in 1 tsp olive oil until onion is translucent and pepper is softened.
Brush each cut side of the rolls with garlic olive oil and lightly salt and pepper.
Assemble sandwiches using prosciutto, cheese, arugula, and sauteed vegetables. Lightly brush outside of assembled sandwiches with remaining olive oil.
Cook until done, about 4-8 minutes.