Brenda.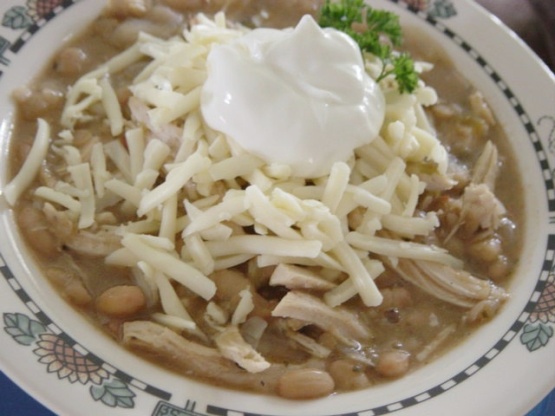 Flavorful and filling ! My mother-in-law's winter chili recipe.

*Made for PAC Spring 2007* This is an easy and delicious white chili. I only had 1-4 oz can of green chilies so I added an additional 1/8 tsp cayenne pepper. I loved the smokey cumin with the spicy pepper and the mild beans- YUM. Served as suggested with freshly shredded Monterey Jack cheese and sour cream. Thanks so much for sharing, Thank your MIL as well :) Nick's Mom
Combine all ingredients (except chicken).
Bring to boil.
Reduce heat; simmer 1 hour. Add chicken and cook 1/2 hour.
Top each bowl with sour cream & Monterey Jack cheese before serving.