Bella's Butterscotch Fingers
Kater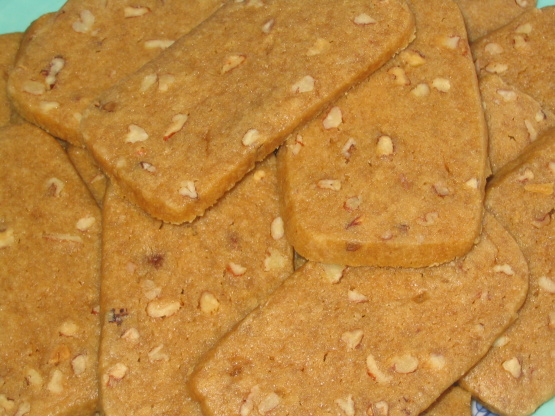 Here's another terrific cookie recipe from my friend Bella, who is the world's greatest baker (in my opinion!). Prep time doesn't include chilling time (there are 3 different options for the chilling)

These cookies were excellent! I made the recipe exactly as written, and they were delicious. Tasted like shortbread cookies, with pecan flavor. I will be making these again. Just make sure to take them off the pan right away. One pan I waited a little too long and had to chip away at them.
On waxed paper, combine flour, baking powder and salt.
In a large bowl, with mixer at medium speed, beat butter and sugar until creamy, occasionally scraping bowl with rubber spatula; beat in vanilla, then egg; at low speed, gradually add flour mixture; beat just until blended, occasionally scraping bowl; with spoon, stir in pecans.
Shape dough into a 12" by 3 3/4" by 1" brick.
Wrap brick in plastic wrap and refrigerate at least 6 hours or overnight until firm enough to slice.
Or place brick in freezer about 2 hours.
Preheat oven to 350°.
Grease a large cookie sheet; with sharp knife, cut brick crosswise into 1/8-inch thick slices; place slices, 1 inch apart, on cookie sheets.
Bake cookies 12-14 minutes or until lightly browned around edges.
Transfer cookies to wire rack to cool.