BarbryT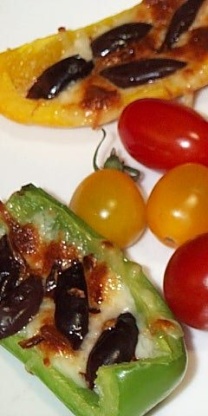 I adopted this recipe. I found 9 baby sweet red, yellow, & orange peppers which I just cut in half seeded and stuffed. The peppers are very sweet and the cheese gives this a nice kick. Meanwhile the olives give this appetizer a nice saltiness.

Really good! I added chopped up zucchinis to make it a little more substantial!
Cut bell pepper strips crosswise into halves.
Arrange in ungreased broiler proof pie pan, 9 X 1 1/4-inches or round pan 9 X 2-inches.
Sprinkle with cheese, olives and red pepper.
Set oven control to broil.
Broil peppers with tops 3 to 4 inches from heat until cheese is melted, about 3 minutes.