Bell Pepper (Capsicum) Salad With Feta and Black Olives
Boomette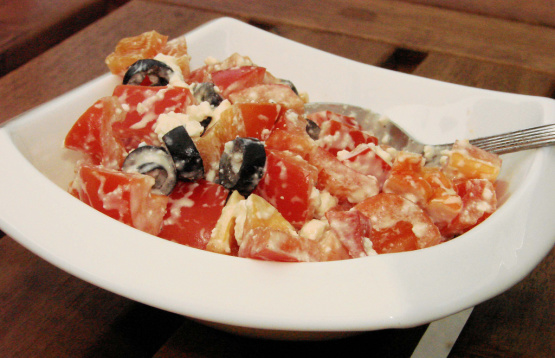 This colourful salad looks fantastic on the table, and is so-o-o easy to make. I originally created it to take to a barbecue, and everyone loved it. You can be flexible with quantities for the feta, olives and dressing—suit your own taste and visual preferences. Also, you can add chopped parsley or any other herbs or spices that appeal to you.

I made your salad to go along with Italian pepper subs with sauteed peppers and onions. This is the first time I have ever made a Greek style salad that did not contain tomatoes or lettuce...and it definitely will not be the last. My kids and I loved it! I chose to use the creamy version of I'm Pat's 4 Salad Dressing to which I added some Greek herbs. Going to be making this again real soon. Thanks for sharing your recipe. Made and reviewed for the 65th AUS/NZ Recipe Swap.
Combine all ingredients. Stir thoroughly and serve.