Annacia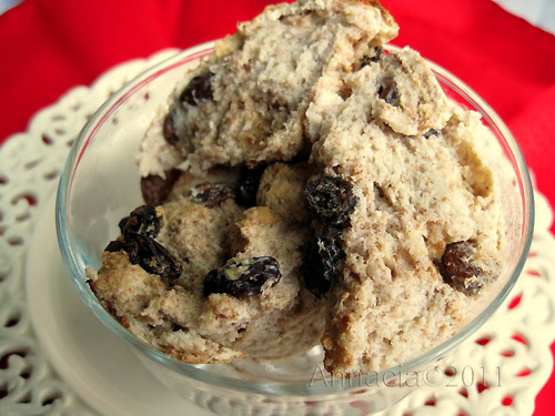 Belizean Bread Pudding is a traditional Belizean recipe for a classic baked dessert made with coconut milk, evaporated milk and rum. I found this recipe on the BelizeAttractions website, and I thought it was worth a try.

Made for ZWT7 this is a very nice bread pudding with the flavor of coconut added. I used whole wheat bread as I almost never have white bread in the house. While any of the suggested toppings would be great I didn't think I needed the added calories and passed on them. Even though you really can't tell be my photo this has a moist creamy texture that, in it's self, is reminiscent of custard. I went heavier on the raisins because DH really likes them. Would you believe that we had it warm for lunch because it's a chill dark day with a cold hard wind blowing and it really hit the spot. :D
Break up the bread into a large bowl. Add the sugar, raisins, butter, cinnamon, and mix gently with a large spoon.
In a saucepan over medium heat, mix together the evaporated milk, coconut milk, and water; cook until hot.
Add creamy mixture to the bowl with bread pieces, and set aside until bread is soggy. Then add the alcohol (or vanilla extract) and mix well.
Preheat oven to 375°F/190°C,.
Grease a 9x13-inch baking pan, Pour bread pudding into greased pan, and bake 90 minutes, or until the bread pudding is crunchy. Let cool completely.
Turn out and place crunchy side up. It's delicious as is, or even better topped with ice cream, custard, or whipped cream.