Elmotoo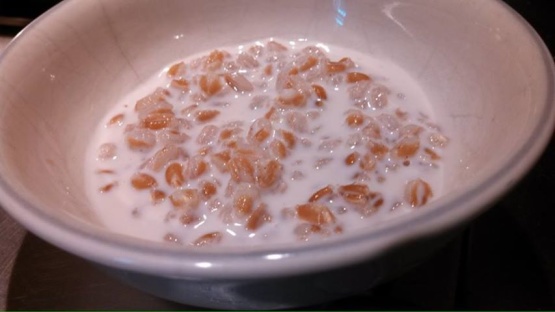 Cooked wheat berries in milk from Egypt. Please take into consideration the time necessary to soak the wheat berries overnight and to cook them for one hour. Good for either breakfast or dessert but we enjoyed it better as the former. Wheat berries have quite a chewy texture so if you've never cooked with them before at least you know what to expect. As found in the cookbook 'Mediterranean Light' by Martha Rose Shulman. Vegan friendly.

OOH I get to be first! This is wonderful, CG! One quick mention - my package actually says farro. Looked it up & it's all basically the same thing. I *did* remember to soak them overnight. They were cooked in closer to 30 minutes. Once the spices had steeped & the flavorings added (I would double the orange flower water next time; it was wayyyy too subtle), I added the wheat berries back to soak in the flavorful milk until the rest of the gang woke up. I added more honey to my serving. So delicious & the chewiness of wheat berries makes me weak in the knees. Thank you! Made for Ramadan Tag 2013.
Soak the wheat berries overnight in water to cover. Drain the next morning.
Combine the wheat berries with 3 cups of fresh water; bring to a boil.
Reduce heat, cover and simmer 1 hour or until the skins split. Drain.
In the same pot heat the milk (or milk substitute) with the honey, cinnamon or piece of cinnamon stick and nutmeg. Gently heat until the spices start to become fragrant.
Remove pan from the burner and stir in the vanilla extract and orange flower water. Note: if you used a piece of whole cinnamon stick remove it now.
Stir in the cooked wheat berries and heat through if necessary. Or, as we did: spoon a serving of the wheat berries into a bowl and pour milk all around.
Garnish the wheat berries with diced apple, powdered sugar or a drizzle of honey and the almonds.