Pam-I-Am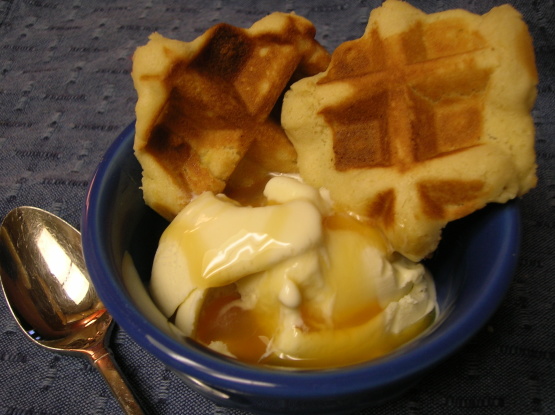 Crisp, yummy cookies which a lot of people seem to exchange around the holidays. I think the Italian verson contains anise.

These were so easy and delicious! I served them with ice cream and it tasted like a fresh ice cream waffle cone with it. You have to watch them carefully or they could burn. My belgian waffle maker got hot towards the end and started cooking them faster. Fun when you have company or kids. A great (large) cookie for a special dessert ending to dinner.
Preheat waffle maker.
Place butter and sugar in a large mixing bowl.
Cream together on med-low.
Add vanilla and salt, increase speed to medium.
Add eggs and mix until smooth.
Decrease speed to low, add flour and mix well.
Divide batter into 4 3/4 cup portions.
Using one portion, drop batter on each corner of the grids.
Close waffle maker and bake until steam no longer escapes (about 3-5 min).
Carefully remove waffle from maker and allow to cool.
Serve plain or with your favorite fruit filling and whipped cream.