Belgian Endive Wrapped in Ham with Cheese / Lof met Ham en Kaas
BecR2400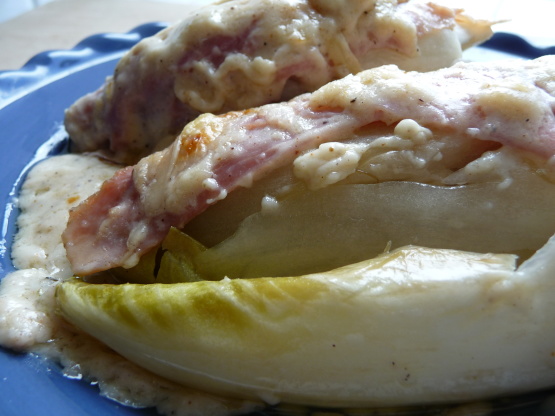 Belgian endive or chicory is not a vegetable that will be liked by everybody. It being slightly bitter puts it in the category for an acquired taste. The recipe is based on 2 pieces per serving, so if you buy the endive heads and they are large or thick and you will halve them buy less heads. You can also make a bechamel sauce to which you add cheese and nutmeg, pour that over the ham wrapped endive, add more cheese on the top and bake. Bread crumbs can be mixed in the cheese for the topping. In Holland we usually serve this with mashed potatoes.

this is an excellent recipe. i loved how the ham and cheese offset the bitterness of the endive. even though after cooking the endive remains bitter it isn't overpowering...at least not for me but then again i do love bitter vegetables. i used black forest ham, cheddar cheese, and a little heavy cream. i didn't have any nutmeg but next time i will add it because it can only make this even better. thank you for the recipe.
Cut of a thin slice of the bottom of the endive, with a small knife remove the bitter core of the endive.
Cut large heads in half and don't forget to remove the core.
Cook the endive in salted water and the lemon juice for 20 to 30 minutes or until cooked.
Drain and put them in a colander.
Preheat oven to 350 degrees F.
When cool enough to handle, wrap each endive in a slice of ham, also the loose leaves, put them in a greased oven proof dish, add grated nutmeg, sprinkle the cheese on top and add some flecks of butter.
Bake for 30 to 40 minutes.