twissis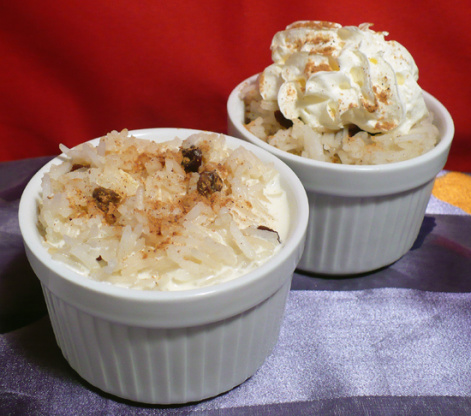 This delicious dessert from Belarus is similar to a rice pudding.

Made for the Aug Aussie/NZ Recipe Swap, I chose this recipe for its simplicity & because I am esp fond of rice custard or pudding. I made it as written, but did have to add 2 tbsp extra water in the final cooking stage w/the raisins. It is very ingredient + prep-friendly & would be an excellent snack or after-school treat for children, but IMO needed another flavour dimension to meet my taste pref. Vanilla or cinnamon might work well, but I opted to rely on nutmeg & it was delicious w/it! The recipe yielded 6 generous ramekin servings that I served w/cream (as suggested) & also w/whipped cream. Either cream or whipped cream is a must here as the dessert will be dry w/o them. Thx for sharing this recipe w/us. :-)
Rinse rice in cold water.
Bring 3 cups water to a boil; add rice; cover.
Boil the rice in a saucepan for 3 minutes over high heat.
Reduce heat to medium and continue cooking, another 6 minutes.
Add raisins and continue cooking over low heat for 3 minutes.
Remove from heat and let stand for15 minutes. DO NOT OPEN LID.
Stir rice and sweeten with honey to taste.
Serve warm with a little milk or cream.