Nimz1466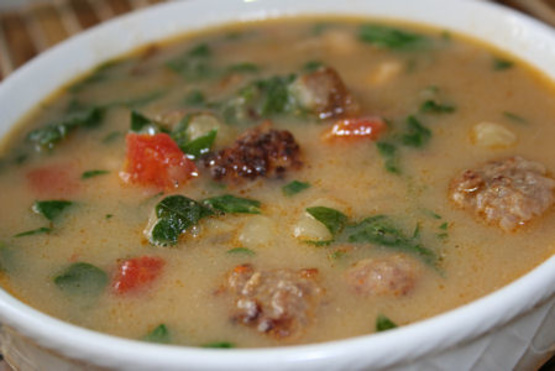 I've seen several Tuscan Soup recipes out there, so here's mine. I have a penchant for spicy Italian, but please feel free to sub milder ingredients, if that's your thing. I don't know why it would be, but if that floats your boat... Serve with some warm crusty bread and enjoy!
Remove casings from sausage links and slice. Place sliced links in a large stock pot or dutch oven over medium high heat and brown until no longer pink. Drain excess grease, but do not rinse.
Reduce heat to medium, add onion and cook until soft, stirring often. Add garlic and sautee one minute longer (careful not to scorch it!), then add stock and potatoes. Simmer until potatoes are fork tender.
At this point, if you prefer a thicker broth, feel free to hit it with an immersion blender for a couple seconds, or mash some of the potatoes with a fork and stir in to the broth. The addition of the cream at the end will thicken it slightly, but use your judgement and your family's preference as your guide.
Add beans, tomatoes, and spinach, simmer until spinach is just wilted but still green, 1 - 2 minutes.
Remove from heat and stir in milk or cream. Season to taste with salt and pepper, serve with crusty bread.