Bek's Grilled Mahi Mahi Fillets in Soy Ginger Marinade (Oamc)
lazyme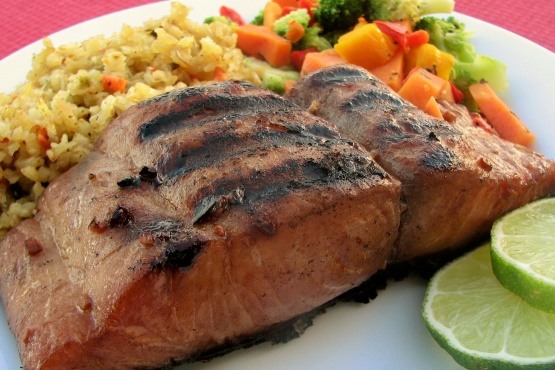 This is a mild, Asian-inspired marinade that complements the mild flavor of Mahi Mahi. Great summer dish, I'm sure it would be good on any mild fish. OAMC chefs, double or triple the marinade as needed and freeze in family-sized portions - I use my vacuum sealer. **As with many of my original recipes, the ingredient amounts are approximate. Adjust to your preferences. As always, let me know if you make any substitutions or tweaks - I always like new ways to try old favorites! (Cooking time does not include marinating time.)

WOW! This was outstanding. I did leave out the cayenne as the kiddos were having it with us for dinner. It was "delicious" (as my husband said.) My fillets started out frozen and I just added them to the marinade. I marinaded them for 5 hours in the fridge - mine cooked in about 4 minutes! GO GATORS! Thanks, Bek!
In a 1 gallon zipper bag, combine all ingredients except fish. Squish to combine. Add mahi and seal, refrigerate at least 4 hours or overnight.
OAMC - squeeze all air out of zipper bag, or seal in a vacuum sealer and store in the freezer. Defrost and grill, following instructions below.
Spray grill with non-stick cooking spray, the preheat to 475°F Cook fillets about 4 minutes on the first side, then turn and cook another 2-3 minutes, depending on thickness. Trust yourself on the grill, based on the thickness of your fillets - don't blindly use my timing! An overcooked fish is a sad fish.