Bek's Black Bean Salsa/Pico De Gallo
teresas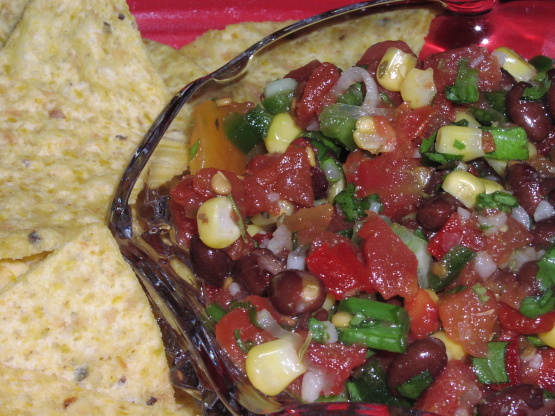 I love this with pork chops and yellow rice, as an alternative to plain black beans. It's also a great colorful dip to put out for parties with tortilla chips or pita chips. This can be served warm or cold, we like it both ways. This recipe started with leftovers from Bek's Famous Pico De Gallo, then adding the black beans, corn, and red bell pepper and some additional spices. I've written this to be made from scratch, but it might help to glance through that recipe first. I also included some variations I've tried at the bottom of the directions - as always, let me know how you change it up.

This was very enjoyable! I had fresh tomatoes I needed to use up, so I used those rather than canned and I added an avocado to the mix. I would have added more hot peppers, but I was making it for a crowd and didn't know how much heat they could stand. Thanks for posting!Update: Next day, I combined the leftovers with some ground beef, tomato sauce and taco seasonings, cheddar cheese and sour cream for a great calzone filling.
Combine all ingredients in a large bowl.
Refrigerate for at least 30 minutes, preferably an hour to marry the flavors. The frozen corn should be thawed by the time you're ready to serve. If you're serving immediately, make sure your corn is thawed before adding to the recipe!
Variations:
Try roasted red bell pepper instead of fresh for a great, smoky taste.
Use different colored bell peppers for a more festive look.
Add 1/4 cup diced red onion.
Add diced jalepenos or habaneros to kick it up.
Let me know any other variations you try!