Beijing Chicken and Dumplings
LizAnn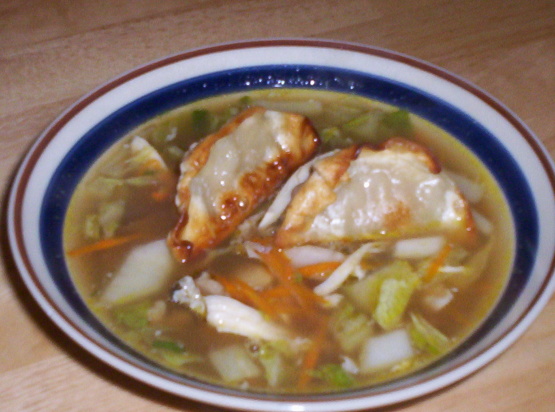 Ah, the comforting feeling of a big pot of chicken and dumplings on the stove! Enjoy an Asian twist with a lighter sweet and sour style broth and dim sum dumplings. Easy to make and flavorful! I have updated this recipe to reflect changes graciously suggested by expert RSC#9 contest reviewers.

Top Review by LizAnn
Upon Chef Rickmann's request, I made this again and the results were so much better. I tried to stay as close to the recipe given as possible but I did make a few alterations: I cut up a whole chicken and covered it with water and added remaining ingredients except chicken broth or chicken bullion. I used sesame salt and dulse for saltiness.I added the soy and sesame oil in the second half of recipe. I ended up with about 7 cups of broth to which I added my soak water from the mushrooms to make 8 cups. I only cooked the chicken 1 hour as I dont like overcooked chicken. After the chicken was deboned and ready to add to soup, I heated the broth and added veggies, soy, sesame oil, sugar and an extra tbs vinegar. My daughter fried the potstickers and we topped the soup with them. I did not mix them in the soup because last time they fell apart. The soup has a wonderful flavor without the potstickers. But the potstickers made it fun.
In a large soup pot, combine all ingredients in "add first" category.
Add enough water to cover chicken and heat on high burner setting until boiling; reduce heat, cover and simmer for one hour (leaving it on longer, up to an additional hour, is fine.).
Remove chicken pieces from pot and strain broth to remove fat.
Strip chicken off the bones; discard skin and bones and return chicken meat to soup pot along with "add last" ingredients.
Cook uncovered over medium heat 5-7 minutes (or until pot stickers are cooked) and serve hot.