ChefLee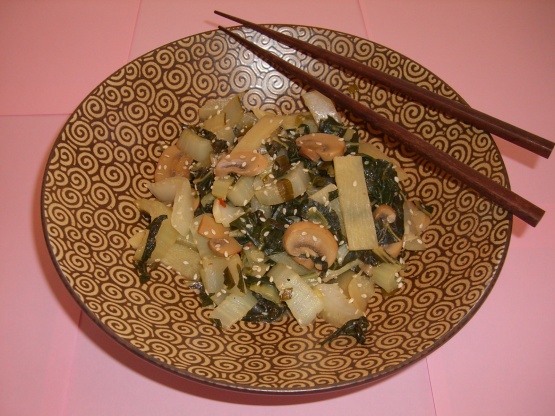 I made up this bok choy with grapefruit juice, rice wine vinegar, and honey to give it a different twist than the usual teriyaki flavors. Hope you enjoy it!
Remove and wash each bok choy rib before chopping.
In a small bowl; mix grapefruit juice, rice vinegar, honey, salt, pepper, red pepper flakes, and soy sauce.
Heat canola oil in a large skillet.
Add onions, bamboo shoots, and mushrooms then saute on med-high heat for 3 minutes.
Turn heat down to med-low then add bok choy and the marinade.
Stir then cover and simmer for 10 minutes until bok choy wilts. (Stir occasionally during this time).
After 10 minutes, remove lid and add the sesame oil and sesame seeds.
Stir and simmer for 1 more minute.