gailanng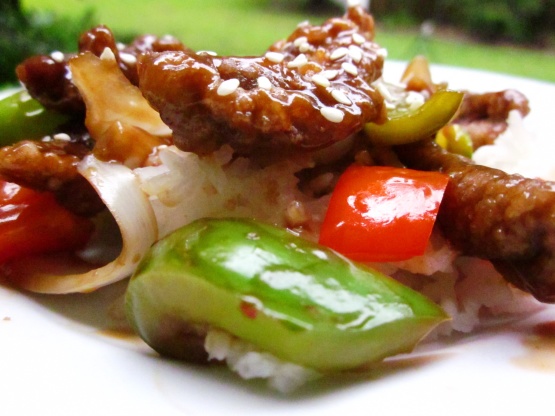 I have a kid that loves Panda Express Beijing Beef. This is my best stab at it. Naturally, she thinks mom's is better. What I've learned: sherry may be used in place of the ponzu, but ponzu with citrus is IT. Also, I used a double batch of Hoisin Sauce Recipe and it is the perfect amount for the hoisin sauce. I found when making the hoisin, it's best to use a black bean sauce and honey combination. Another thing, cut the strips very thin; they fry crisper. Should you like it less sweet, cut back on the sugar, Panda's is pretty sweet. Let me disclose that I am NOT claiming this as an exact replica, but still very good. 9/13/11 Upadate: I retried the recipe for the 10th time. Quite possibly for a better match of the Panda Express, in place of the 3/4 cup hoisin, use half the amount as hoisin and the other half sweet and sour sauce to make 3/4 cups. I added that to the ingredients so as not to forget.

This was excellent. I did use pork as I already had some sliced in the freezer. My family raved about this recipe. Thanks for posting.
In a bowl , whisk together all marinade ingredients. Place marinade in a small sealable plastic bag, adding beef slices. Seal and massage to coat; marinate for 15 minutes.
In the meantime, in a small bowl mix all the sauce ingredients together, whisking to completely combine; set aside. (I place the ingredients in a sealable container and shake.).
Drain marinade from beef. Coat the beef slices with cornstarch. (I place each coated slice on a piece of wax paper lightly dusted with corn starch so as not to stick.).
Heat oil over medium-high heat until very hot. Shake off any excess cornstarch from the beef slices and fry in batches until golden brown. Drain on paper towels; set aside. (Note: The beef may be fried in a wok, after which drain and wipe clean with paper toweling.).
Heat wok over medium-high heat. Add 1 tablespoons oil and heat to almost smoking. Add minced garlic and ginger and stir-fry for 10 seconds. Add bell peppers and onion; stir fry for 2 minutes. (Note: to keep the vegetables crisper, set vegetables aside and cook the sauce separate.).
Pour sauce mixture into the wok over the vegetables and heat until boiling and sauce thickens. Remove from heat then add beef to vegetables and coat with the sauce.
Sprinkle on top toasted sesame seeds.