Beignets á La Fleur De Sureau - Elderflower Fritters
COOKGIRl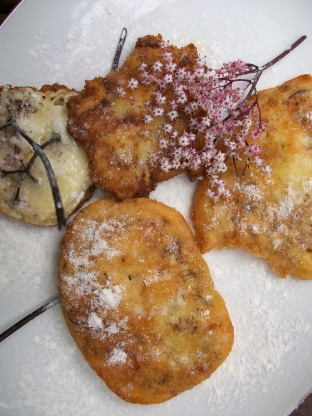 Delicate flowers turned into a delicious treat lovely with your tea or coffee. From the Creole chapter of the United States Regional Cookbook, Culinary Arts Institute of Chicago, 1947.

I've revised my review because I read it incorrectly the first time. I am still somewhat confused by when to add the egg whites to the batter because directions Step #7 say to soak the flowers in the egg whites but in Step #5 it is folded into the batter. These were fabulous and the flavor unlike anything I've ever tried. Love the hint of orange. Used soft pink elderflowers because that's all we have producing now. Thanks for posting a gem of a recipe, Molly.
Beat egg whites with sugar until frothy; set to the side.
For the batter: Separate eggs; whip egg whites to stiff peaks.
In a separate bowl, beat egg yolks until light; add sugar and salt, beat well.
Add flour to yolk mixture and beat again.
Add orange juice, melted butter and just enough water to make about the consistency of pancake batter.
Fold in stiffly beaten egg whites.
Preheat oil to 365°F.
Soak flowers in egg white-sugar froth.
Immediately, dip into beignet batter and drop from spoon into hot oil and fry to a golden brown.
Drain on paper towels and sprinkle with confectioner's sugar.