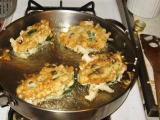 For some reason, folks are afraid to try to make white rice unless it comes pre-packaged in a packet or a box (not bulk). Here's a fool-proof recipe that will have you making rice as a side dish three nights a week. I've been making it this way for years and I mostly use basmati rice that I buy in the big bags. However, I also frequently use the cheap, plain white rice that comes in 2 and 3-pound plastic bags and this recipe works just fine.
Directions
In a 3-quart saucepan, bring the water, salt, and butter to a rolling boil. Add in the dry rice and stir.
Reduce the heat to very low, a simmer, and cover.
Check the rice after 12 minutes and stir. If it's gooey-looking or still wet, re-cover and check it again in 5 more minutes. It should be done at this point.
Fluff it up with a spoon and take it off the heat. Cover again until you're ready to serve.
Most Helpful
Great stuff. I substitute olive oil for butter as a personel taste preference. Just a note on the amount of water. 2 cups will work fine if you live close to sea level but if you live at any altitude it will take 2 2/3 cups or even more to get perfectly done rice.
bought some organic basmati rice in bulk and followed this. used sea salt but otherwise followed the recipe. my daughter loved it. it was easy and perfectly done; and more healthy. thank you.
My own method is slightly different -- just 2 cups water to one cup rice, no butter or salt, and putting the rice in with the cold water before bringing it to a boil, -- but I agree that rice is a lot easier than most people believe and I hope that your instructions here will get them to try it.