duonyte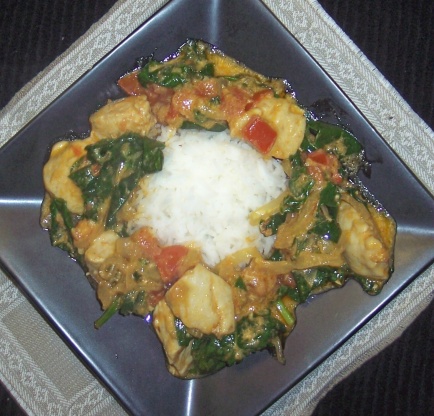 From the Chicago Tribune Magazine. The author adapted this recipe to introduce a young child to ethnic food other than pizza and spaghetti. It is a very mild curry, and my problem adult eater really enjoyed it. Tasty and colorful, it's fast andeasy to whip up.

This was really good, and served its intended purpose of introducing DS to curry. I personally added garlic powder and red pepper at the table, but that was a small price to pay for a meal we could all enjoy! I used light coconut milk and frozen tomatoes, plus one of DS's old carrot baby food cubes instead of tomato paste; all worked just fine. Thanks for posting! Made for PRMR.
In a large skillet, heat vegetable oil over medium heat.
Add onion, garlic and salt; cook, stirring, until softened, 7 minutes.
Add curry powder and cook, stirring, 1 minute.
Stir in coconut milk, tomatoes, and tomato paste; cook, stirring occasionally, until thickened, 10 minutes.
Add chicken and simmer until cooked through, 6 minutes.
Turn off heat.
Add the spinach and stir until wilted, 1 minute.
Serve hot over rice.