Beez's Meat Spheres (Aka Meatballs)
Lvs2Cook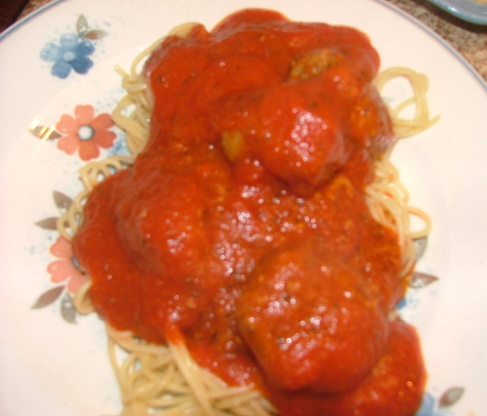 While I won't go into why these are called meat spheres instead of meatballs, my DD found this recipe in my recipe file and made some up. I didn't see a recipe posted just like it. Although we are not much for meat spheres, we opt for this recipe because they are simple, baked instead of fried and are versatile. I have made these into tiny meatballs for appetizers as well. I often make double the amount and freeze some for later meals or subs. Freezing instructions follow cooking instructions.

Mix all ingredients together and shape into balls ~ about the size of a golfball.
Brown the meatballs by placing in a shallow baking dish and baking at 350º for 15 minutes until golden brown.
Place hot meatballs into sauce and let simmer while your pasta cooks.
Here's how I freeze the meat spheres ~ I make them up and cook them as above. I let them cool a bit, place on a cookie sheet in the freezer and when they are frozen, transfer to a ziplock. I take out the amount I need for dinner and put them in a pan with a jar of sauce (or more depending on the number of spheres I am cooking) and let them simmer for 30 minutes at least ~ no need to defrost them first ~ until they are cooked! Very simple!