dojemi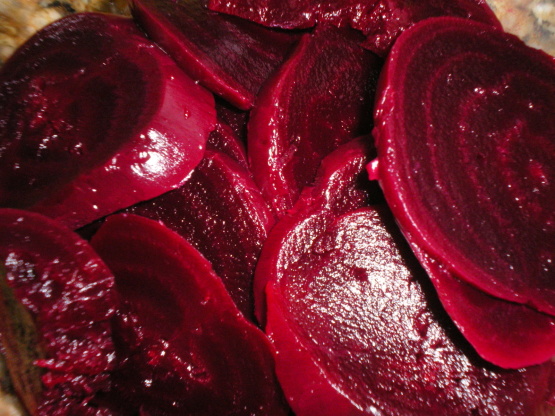 My DH loves beets.........plain and simple. There are a numerous amount of ways to serve them. When cooked, grate some orange rind over the beets. Dress them with a vinaigrette. Add some sweet onion, parsley, and hard-boiled egg chunks for a hearty salad. Mix with vegetables.

I love beets and this simple way to prepare them. I agree with Bergy that they are just great tasting plain. I did serve them this time with a orange flavoured pilaf (including orange rind) which went very well. I will be using this recipe over and over again. Made for THINK PINK RECIPE TAG EVENT - OCTOBER 2011
Wash the beets and trim off the tips and tops.
Place beets in a large pot of water.
Bring to a boil and cook till tender, approximately 20-45 minutes (time will differ depending on the size of the beets).
Remove from water when cooled and remove skin which will come off easily just by rubbing.
Slice and serve warm or at room temperature.