JustJanS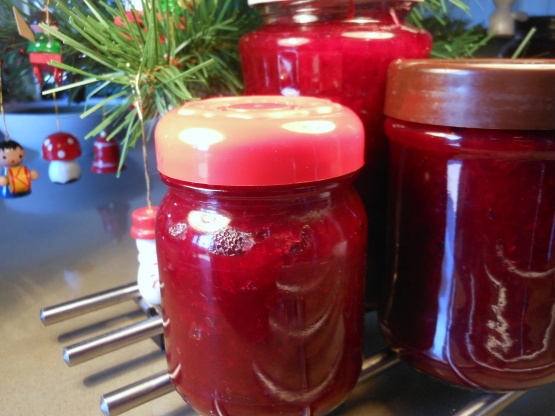 Cleaning out my recipe drawer and I came across this very old recipe for relish that I used to make many years ago. This relish keeps so well (about 6 months in a cool dry place) and I remember everyone loved it. I used to serve it with meat (both hot and cold meats). Relish must be refrigerated after opening.

Top Review by awalde
I had the great opporunity to try this relish in Jan's house! We really liked this, liked the taste, the texture and the color of it!
It's a very good idea to prepare it and to have some to serve with several dishes adding a pretty touch to you dish and making the meal more delicious.
Peel beetroot and chop roughly. Process both beetroot and onions in batches until very finely chopped.
Combine the beetroot and onion mixture with the sugar, salt, allspice and 1 1/2 cups of the vinegar in a large saucepan, bring mixture to boil, boil, uncovered, for 30 minutes.
Blend flour with the remaining vinegar and add to the beetroot mixture, stir over medium heat until the mixture boils and thickens.
Pour into hot sterilized jars and seal when cold.