Beet Salad With Pistachios and Feta Cheese
ChefLee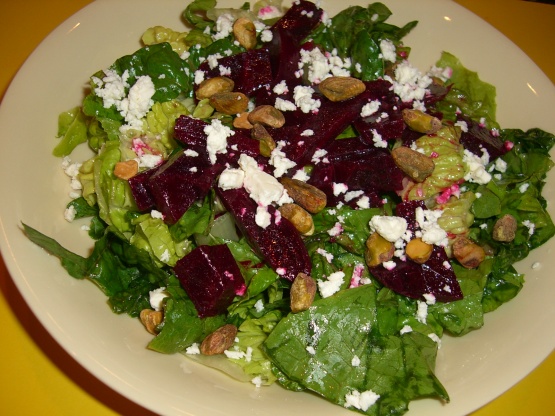 This recipe is from the Sept. 16, 2008 edition of the "Living" section of our local newspaper, "The Democrat & Chronicle". DH and I were blessed with an abundance of beets in our vegetable garden this year and have been searching for different ways to use them. I thought this recipe sounded interesting. I have not made this yet but have plans for the near future.

This is a good recipe and easy to make, but for person preference, next time I would used pickled beets. Thanks for the recipe.
In a small mixing bowl, whisk together orange juice, vinegar, honey and olive oil until well blended.
Place beets through the shredding disc of a food processor, then toss with half the dressing mixture.
Toss romaine lettuce with remaining dressing and divide among four salad plates.
Top each plate with beets and sprinkle with pistachios and feta cheese.