Beet Salad With Goat Cheese and Walnuts
PaulaG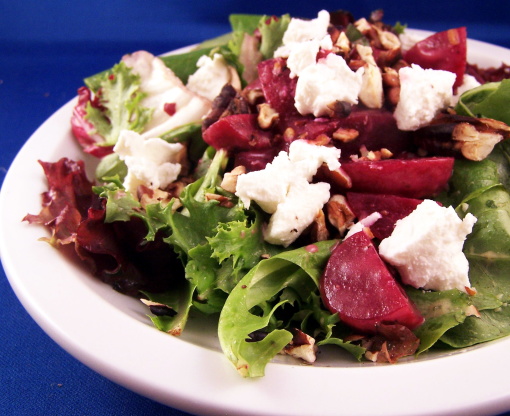 Combine the strong flavors of beets and goat cheese for a delicious and different salad. Boost the rich flavor of the nuts by toasting them in the oven until golden.

Loved the idea of this salad and with a few minor changes, due to available supplies, it was awesome! Thank you for the new dish!
8 1⁄4 ounces can tiny whole beets, chilled

1

tablespoon snipped fresh basil or 1 tablespoon flat leaf parsley
1⁄8 teaspoon ground black pepper

4

tablespoons vinaigrette dressing (bottled reduced-fat or fat-free balsamic)

4

cups mixed baby greens

2

tablespoons coarsely chopped walnuts, toasted

1

ounce semi-soft goat cheese, crumbled (chevre)
Drain and cut up beets.
In a medium bowl, combine cut-up beets, basil, and pepper.
Drizzle with 2 tablespoons of the salad dressing; toss to coat.
Arrange greens on 2 salad plates; sprinkle with remaining dressing.
Top with beet mixture, walnuts, and goat cheese.