Beet, Feta and Granny Smith Apple Salad
karen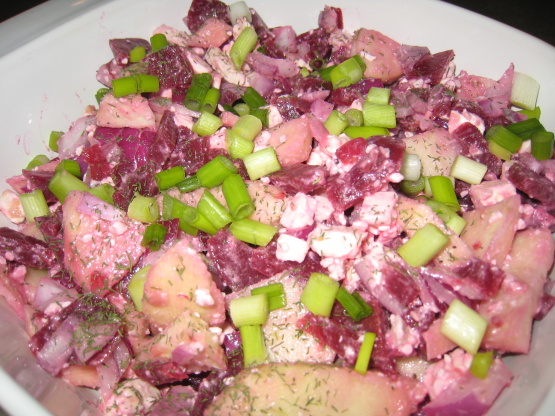 This is a beautiful and delicious salad. This is also very nice and a bit milder served with Golden Delicious Apples.

Top Review by karen
I had a can of beets I wanted to use up, so I tried this for a BBQ. I think it turn out ok, but I'm not sure I was crazy about the horseradish and dressing. I left out the celery seed and used Durkee's instead of the mustard, but otherwise stuck to the recipe. A few of my guests said said they liked it, but it didn't get gobbled up like the other side dishes. Not sure I would make this one again.
Wash the beets, but do not peel.
Place in a very deep pot and cover with cold water until floating. Bring to a boil, cut back to a simmer and cook for about 40 minutes or until tender when pierced with a sharp knife. Note - Beets can be a bit messy and stain terribly. By using a very deep pot you won't have as much splattering.
While the beets are cooking, make the salad dressing by combining the ingredients above starting with the shallot and ending with the freshly ground pepper. Shake well.
Chop the red onion, slice the green apple, place them in a large bowl and toss with the salad dressing and the feta cheese.
When beets are done, cool, peel, cut in half and then slice thinly.
Toss with the apples, onion and cheese mixture.
Garnish with the scallions and dill.
Enjoy!