Brenda Z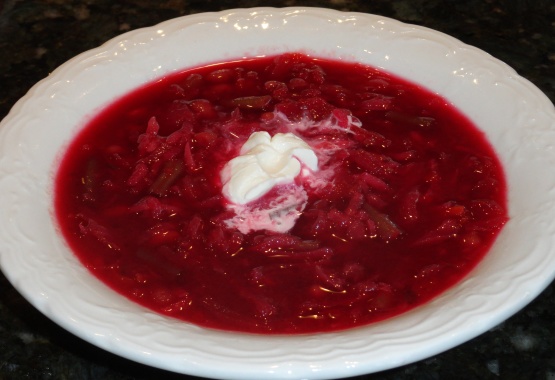 This version of beet borscht is an adaptation from a renowned local Ukrainian restaurant. Quick and easy to make, this soup is hearty and delicious the day you make it, but if you can stand to wait it is even better the next day. Because I like to make soup in larger quantities, I usually double this recipe and it will then yield enough for plenty of leftovers.

Wow,this recipe is so easy but sooooo delicious! Definitely a Ukrainian borscht if I ever tasted one, it tastes just like my Baba's did, honestly! Thanks for posting :)
Place beets, onion, potatoes and cabbage in a soup pot. Add enough cold water to cover the vegetables completely. Add all other ingredients except sugar and vinegar. Bring to a boil then reduce heat and simmer for an hour and a half or so. Adjust seasoning to taste, add sugar and vinegar and simmer for a few minutes more. Serve with a dollop of sour cream.