Parsley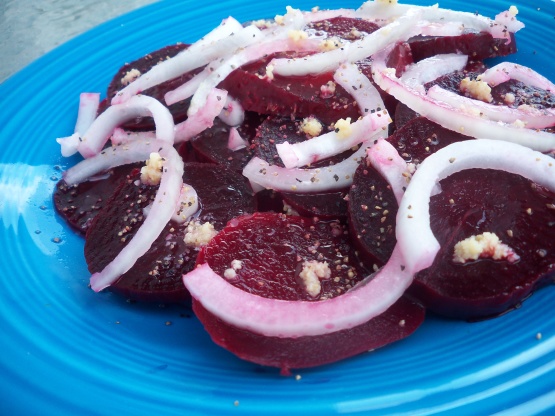 I got this recipe for a cookbook "Greek Cooking for the Gods". I'm a beet lover and really enjoy this. The time does not include the chill time.

I love Beet salad with red onions and Feta Cheese adding the garlic can';t hurt the flavors I like Red Vinegar and Olive oil so am sure this is going to be a real treat as I just boiled some fresh garden beets to pickle when it cools down tonight so will make this salad to go with my planned Spinach salad tonight '
Trim stems from beets leaving 1/4 inch stem attached.
Place beets in pan with enough water to cover.
Boil , cover, reduce heat and simmer until tender about 25 minutes.(I have used whole canned beets and sliced them, works well.).
Drain and cool. peel and slice in 1/4 inch slices.
Arrange beets on a platter.
Top with onions and sprinkle with garlic.
Sprinkle with salt and pepper.
Mix vinegar and oil and pour over beets.
Refrigerate until well chilled.