Beet-And-Blood Orange Salad With Mint
MsPia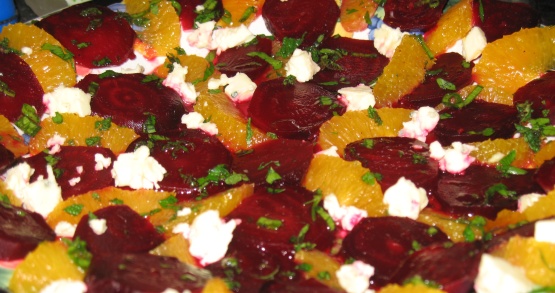 A Food & Wine recipe by Sam Mogannam.

Top Review by MsPia
What a fantastic salad! I couldn't find blood oranges or golden beets, so I used regular beets and oranges. The mint on the dressing is a must. I did not have honey but I used the syrup from awalde's recipe#451219 . Fantastic!. What I did have was sumac and I was very happy to use it for the first time.
Spread the beets in a large steamer basket and steam until tender, about 15 minutes. Transfer the beets to a bowl and let cool completely.
Using a sharp knife, peel the oranges, removing all of the bitter white pith. Quarter the oranges lengthwise, then slice crosswise 1/3 inch thick. Add the oranges to the beets along with the parsley and mint.
In a small bowl, whisk the lemon juice with the vinegar, shallot, honey and 1/8 teaspoon of sumac. Whisk in the olive oil and season with salt and black pepper. Pour the dressing over the salad and toss gently to coat. Add the feta and toss again. Sprinkle the salad with sumac and serve.
Note 1: The beets can be steamed one day in advance and refrigerated.
Note 2: Sumac powder can be purchased at Middle Eastern markets or specialty-food stores.