Kaarin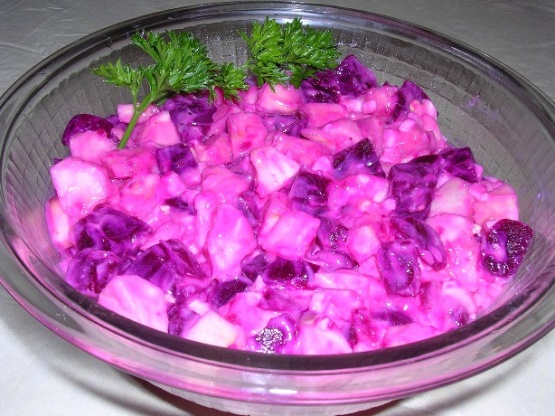 Sweet and creamy cooked dressing on a beautiful old fashioned salad. From a 1960 cookbook "Pennsylvania Dutch Cooking". I usually peel the apples and omit the nuts.

I used some granny smith apples and my homemade blackberry vinegar instead of plain white vinegar. Delicious and refreshing taste!
For dressing, combine egg with sugar and beat well.
Stir in flour and mustard.
Add mixture to heated water and vinegar in a small heavy saucepan.
Cook, stirring constantly, over low heat until thick, 2-3 minutes.
Season to taste with salt and pepper.
Cool.
In a medium bowl, mix the 4 salad ingredients.
Pour the cooled dressing over and mix well.
Garnish with parsley and chopped nuts, as desired.
Serve chilled.