KellyMae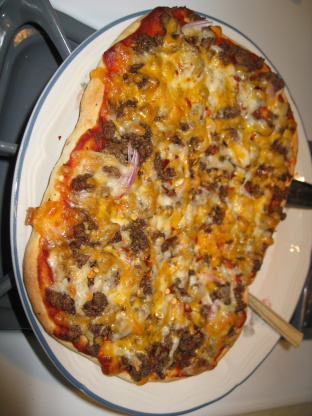 From Canada's Best Bread Machine Baking Recipes book. This recipe can be made in a bread machine, or by hand. I usually make two pizzas from this recipe and have leftovers, but you could roll it out into one larger pizza and/or thicker crust.

Used this recipe tonight using a light beer for our double meat double cheese pizza with alfredo sauce. The crust was nice, but think next week when I make this I will use a stout beer in hopes of a stronger flavor. One think I will mention, when the recipe calls for room temperature it isn't kidding...lol. Thank you for a nice pizza crust recipe, will definately be using it often.
If using a bread machine, simply add all the ingredients in the order given. Make sure that the salt and yeast do not touch, and that the yeast does not touch the liquid, especially if you have a bread machine that preheats the ingredients.
If making by hand:.
Pour beer into a cup and sprinkle the yeast on top. Let sit for about 5 minutes or until yeast starts bubbling and foaming.
Mix all dry ingredients. Slowly add in beer and yeast mixture. Combine all ingredients.
Kneed dough on a cutting board or countertop for approximatley 8-10 minutes. Use flour on the counter top and your hands to ensure it doesn't stick. The dough is ready when it's elastic and you can see little bubbles in it.
Place dough in a bowl (spray first with non-stick spray) and cover with a dish towel. Place somewhere warm (I use the oven preheated to about 200F and then cooled off). Let rise for about 30-40 minutes, or until doubled in size.
Roll out dough using a rolling pin. Top with whatever you like!
Bake in 475F preheated oven for 8-10 minutes. If using a pizza stone, make sure you preheat the stone in the oven.
When the crust is brown and the cheese is browning, remove from the oven and let pizza stand for a few minutes. This will allow the cheese to solidify and make it easier to cut.