Elmotoo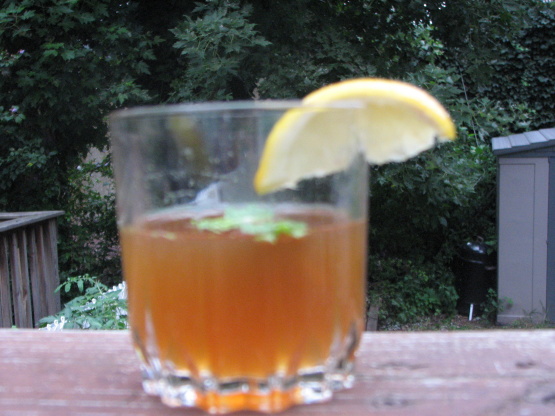 A refreshing beverage and not only for beer lovers. I know, that this is not a true Mojito, but it is in the style of it. Peppermint leaves have a more intense flavour than other mint varieties and also have some bitter notes. This goes well together with the different malty and bitter flavours of many German beer varieties. If you prefer a non-alcoholic Mojito, look out for a alcohol reduced or non-alcoholic beer. Non-alcoholic beer is getting more and more prominent in Germany.
Cut peppermint leaves into smaller pieces and put into a mortar. Add sugar and lemon juice.
Grind to crush the the peppermint leaves and the sugar is dissolved.
Strain through a sieve into a small glass or bowl.
VARIATION I: put 2 teaspoons of Mojito mixture into a glass and cold add beer. Be careful, because the beer has the tendency to produce a lot of foam.
VARIATION II: put 2 teaspoons of Mojito mixture into a glass and add ice cold water and then cold beer.
Garnish with peppermint sprigs and lemon wedges.
NOTE: should make 3 (or 4) glasses.
NOTE: I used a German beer with an alcohol content of 4.8%. It is not too bitter and has some sweet notes. It is light in colour. Drinking temperature: German beer is often served with a temperature of 7 C (45 F).