Beer Cupcakes (Yes Really !)
loof751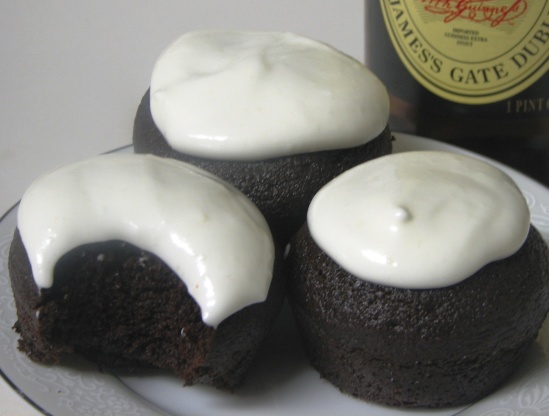 Not as bizarre as it sounds, Guinness (or dark german ale) is great in dishes. Haven't tried it yet but sure plan to. When the men say "get me a beer" you can hand them a cupcake :) Found this on a bigcity blog, and the comments were raves.

These are delicious! The recipe definitely makes at least 24 cupcakes. Mine baked in about 15 minutes, not 25 (seems like a looong time for cupcakes). They were fully cooked at that point but still nice and moist. I liked the glaze with them because the cupcakes really aren't very sweet themselves. I made the glaze with a little less milk, and added a pinch of salt and a splash of vanilla, and it was perfect. I also sprinkled a little nutmeg on top of the glaze...why not? My coworkers gobbled them up.
Preheat oven to 350°F; butter a muffin tin.
Combine the Guinness and the butter, chopped into 1-inch chunks, in a large sauce pan, and heat to melt the butter. Remove from heat, and whisk in the cocoa and sugar. In a bowl, whisk the sour cream with the eggs and vanilla, then add to the beer mixture. Sift together the flour and baking soda, and fold into the batter. Pour into muffin molds and bake for 25 minutes, or until inserted cake tester comes out clean. Let stand 10 minutes, remove from muffin tin, and cool completely on a rack.
Using a mixer, whip cream cheese until smooth, sift in sugar, and beat. Add milk, and beat until smooth. Spread glaze over cooled cupcakes.
Note: make the glaze thicker or thinner by adding or subtracting milk.