SharonChen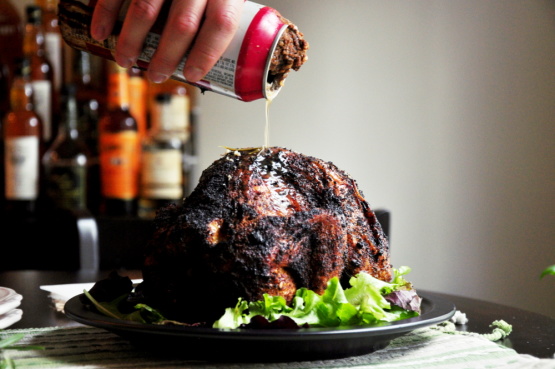 I love to make this chicken and then I use the leftover cooked chicken for another meal. It is so moist and juicy!!! I do use Paula Deen's House Seasoning, which I will include a 1/4 of the recipe of it in the directions section.

This is a great recipe. I used it as a starting point. I mixed some olive oil, minced garlic, seasoning salt, thyme and rosemary to marinate the chicken, then added additional spices in the beer can as directed. I cooked mine in the oven for about 2 hours in a 350 oven (5 lb. chicken) and it was moist and delicious. Quick and easy (prep time) too. I was worried that the chicken would not stand upright on the beer can, but it did so effortlessly without any gadgets or anything. Thanks for posting. Will make again.
Remove any bags of organs/neck/giblets.
Rinse the chicken, and then pat it dry with paper towels.
Sprinkle inside the cavity as well as outside with seasoned salt and house seasoning to taste.
Drink/pour 1/3-1/2 of a can of beer, then add at least 1 tablespoon(or as much as you like) of minced garlic and 2 tablespoons lemon juice to the can. This is the time to add any herbs/seasonings your family likes, such as, oregano, thyme, rosemary etc.
I then add this can to my beer-can chicken gadget, that I got at Walmart for less than 3 dollars, but you don't have to use one.
Preheat grill to medium-high heat on one side.
Place chicken over the top of beer can so that it goes into the cavity. I place mine in a shallow foil pan, so that I catch the juices, which then could be used to make gravy or stock. Now place chicken on the grill over an area that is not over direct heat, cover and cook for one hour and thirty minutes or more, as the size of the chicken will determine when it will be cooked through,until there are no red juices, it is done.
House Seasoning: 1/3 cup salt, 1/8 cup pepper and 1/8 cup garlic powder. I use this mixture on almost all meats, just love it!