Beer Burgers With Beer Braised Onions
Lvs2Cook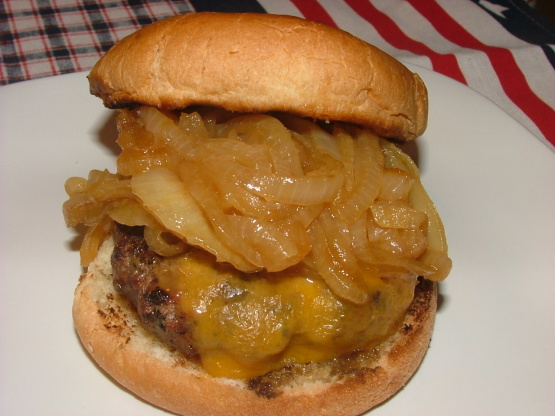 An excellent burger and the onions piled on top of the burger are great. This recipe is one of my DH's favorites.

Top Review by VA3212
Great burger! We used a red onion and each tried a different cheese (pepper jack, provolone, white American) and were all quite happy.
Onions: melt butter in saucepan over medium-high heat. Add onions and saute, stirring frequently, until tender, about 5-6 minutes. Add 3/4 cup beer, sugar, and salt. Cook until all the beer has been absorbed by the onions and they begin to brown slightly, about 18 minutes. Add the remaining 1/4 cup beer and bring to a simmer. Keep onions warm.
Burgers: In a large bowl, thoroughly combine the ground chuck, Tabasco sauce, Worcestershire sauce, and salt and pepper. Gently form into 4 patties, handling as little as possible so as not to make the burgers tough.
Grill burgers to your desired degree of doneness.
Toast buns on the grill.
Serve burgers on the toasted buns topped with the cheese, beer braised onions and ketchup.