Bergy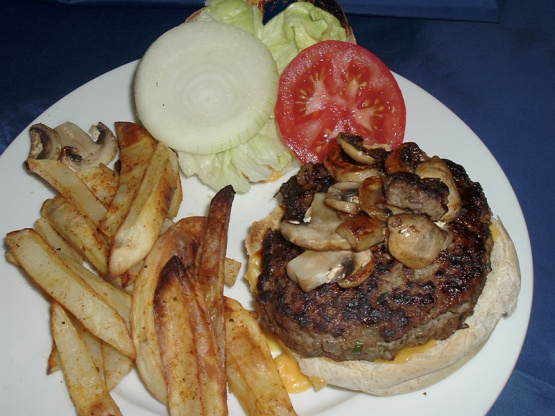 This recipe uses nearly a whole bottle of dark beer, such as stout, which gives these aromatic burgers a nice subtle carmel-like flavor and color. I like to use a Belgium strong beer for these. You can include a couple jalapeno peppers, seeded and diced, with the sautéing onion and garlic if you'd like to add some heat. From the show "Licence to Grill".

Top Review by Bergy
For flavor I would give you 5 stars but the ingredient amounts did not work for me. I cut the recipe in half (1 1/4 lbs lean hamburger , used less than half of one egg it was a large one. Since you said 10 oz stout, more or less, for the full recipe I thought to be safe I would add 3 oz, formed the patties, they were loose, put them in the fridge to firm up, no way even after an hour. I had to add 6 tbps of breadcrumbs (I dislike any fuller in my hamburger.) to get them firm enough to hang together and even then I would not trust them to hold together on the BBQ so I pan fried them. I used Guiness's Stout which did give a mellow flavor, the garlic is just right and I like the touch of thyme. I wonder if cutting the stout back to half would allow enough flavor? Sorry Whipper it just didn't work for me but as I said great flavor. — May 1, 2005
Sauté onion, garlic, thyme and oregano over medium heat until onion is translucent, about 3 minutes. Let this cool completely.
Add ground beef, onion mixture and egg together in a large bowl and mix until thoroughly blended. Slowly stir in stout beer, while mixing. You may want to add less beer than called for here if you find it is getting too thin, or more yet. Then add parsley, celery salt and black pepper and mix well. It's ideal to mix using your hands and you may want to wear rubber gloves for this.
Form into 6 patties and let sit in the fridge for 15 minutes to firm up a bit.
Preheat grill to 375°F.
Place patties onto the grill and cook until well-done (170°F internal temperature), turning once, about 8-10 minutes per side.