Pam-I-Am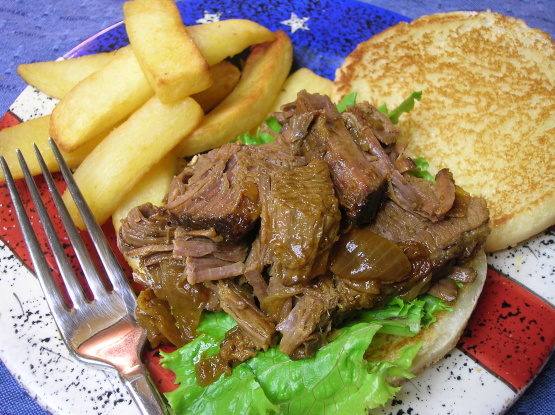 My dad gave me the basics for this recipe. You can use whatever kind of beer you like. Just don't leave it out. The beer is what tenderizes the meat.

Couldn't be easier and so delicious!!! I wanted a brisket recipe that called for onions and didn't have liquid smoke in it. Just wasn't in the mood for that smoky flavor. This was perfect! Especially with the beer. Anything with beer in it is great with my dh. It is actually not a distinguishable taste in the end, but adds a lot of moisture for lots of juice in the end. BTW - It may look like too much liquid in the beginning, but it cooks way down, so don't skimp on it. I will be using this recipe for many briskets to come. Post more recipes texaslady! Pam
1

beef brisket, trimmed

1

large onion, cut into chunks
seasoning salt (I prefer McCormick)

1

(16 -24 ounce) can beer

1

(8 ounce) bottle barbecue sauce (I prefer KC Masterpiece. I've had excellent results with either Original or Honey Barbecue flavors.)
Heat oven to 225 degrees.
Tear off a sheet of heavy-duty foil twice the length of roasting pan (a disposable pan works well).
Line the roasting pan with the foil, centered, folding the sides and ends up.
Place the brisket in the center of the foil.
Sprinkle a liberal amount of garlic powder, pepper, and seasoned salt over the brisket.
Scatter the onion chunks over the brisket.
Pour beer over all, making sure that everything is contained within the foil.
Seal foil. Fold the sides up first, then the top. Place in 225 degree oven for about 8 hours.
Remove from oven, but do not turn oven off. Open foil. Pour off & discard beer. Discard onions if desired.
Pour barbecue sauce over top of brisket.
Reseal. Return to oven for 30 minutes.
Remove roasting pan from oven. Allow brisket to rest for 15-20 minutes before slicing.