Beer Bread Mix (with Gift Tag Directions)
Mika G.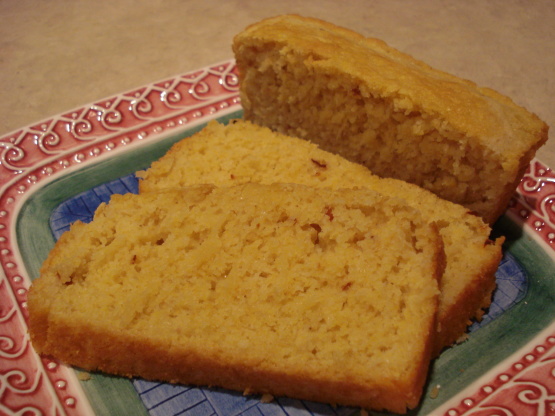 This is beer bread with some character. Mix it up for dinner or layer ingedients in a jar for gift-giving. From a Holiday Cooking issue of Better Homes and Gardens.

I gave this mix away as Christmas gifts mixed up in plastic zip lock bags tucked into a red lunch sack along with a bottle of beer. Finally, after all this time (it's almost Easter now) I figured I should make it to see what it tasted like. It is a very good and unusual tasting beer bread. It doesn't get the usual quick bread rounded shape, it is almost flat on top. I used corn flour in place of the corn meal as it has a finer texture. (Corn flour is available from Bob's Red Mill). For my Christmas mixes, I used Kraft pre-grated Parmesan cheese, but I did use fresh grated for my own. I also melted 1/4 cup butter and poured over the top prior to baking. It was great! LonghornMama, thank you for posting a wonderful recipe!
Stir together flour, cornmeal, baking powder, salt and baking soda.
Place with remaining ingredients in jar, layering if bottle is clear.
GIFT TAG DIRECTIONS: Place jar contents in a medium mixing bowl.
Stir in one 12-oz.
can or bottle of beer just until combined.
Pour into a greased 8x4x2 inch loaf pan.
Bake in a 375 degree oven for 35-40 minutes or until a toothpick inserted near the center comes out clean.
Cover with foil during the last 10 minutes of baking if necessary to prevent overbrowning.
Remove from oven and brush with butter, if desired.
Cool in pan for 10 minutes; remove from pan.
Serve warm or cool completely on a wire rack.