Prep 15 mins
Cook 35 mins
These are simmered until the beer is reduced turning into a thick yummy syrup, coating the bratwursts. These are tender and juicy and very delicious.
Directions
Pour 2 (12 ounce) bottle of beer in a 3 qt pot.
Add butter to melt.
Let it get hot first and add the bratwurst and sliced onions inches Cook, simmering the beer and turning the brats every 10 minutes for about 30 to 45 minutes (use your own judgment).
Let the beer evaporate and reduce it until it is syrupy and to where it looks like it is coating the bratwurst well.
Prepare the hot dog buns on a warm plate.
When beer syrup is thick and reduced then make sure to coat bratwurst with the syrup well by turning and stirring and then with tongs, take them out and place them in the bun.
Add some sauerkraut and eat!
Reviews
Most Helpful
I've been making brats like this for over 20 years!!! Doesn't get any better than this!!!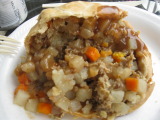 Mmmmmmm, these were so good. We made these for Fathers Day and we loved them. The beer and butter simmering with the brats was a heavenly smell. I served them with sauerkraut and all the condiments. Thank you for much for sharing with us.

I have never cooked bratwurst so I looked it up on this site and this was the first recipe that popped up. I used Coors Light only because I have it available when a friend who loves it comes over. I personally don't like beer but I know it is tasty when used to cook things. I severd them on potato hotdog buns which is probably a no no, but we enjoyed it. The onions in the beer and butter werE amazing too. Thanks for posting!