Beer-Braised Rabbit (Or Chicken) for the Crock Pot
teresas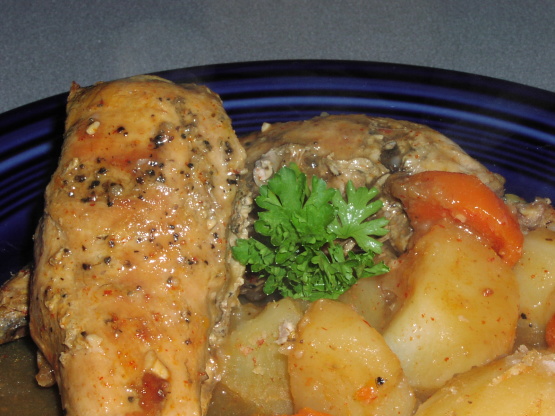 Tasty, tangy recipe for rabbit or chicken. Hey, it all tastes like chicken, right?

This chicken was beyond fall-off-the-bone – it was so exquisitely tender that it was difficult to spear bite-size pieces with a fork. Due to medical necessity, I seasoned it with sage (which I pulverized in a mortar and pestle) and pepper instead of salt and pepper. The instructions were not clear as to whether the pieces should be browned to a light golden brown or to a dark, almost crispy, brown and so I did half of each – made no difference because both were mouth-watering. I used a strong English brown ale, only because of American "beer"'s close resemblance to H2O. The end result was a taste of well-blended flavours, ever so slightly nutty and not too sweet at all.
In a crock-pot, place potatoes, carrots and onion.
Season meat with salt and pepper; brown in oil on all sides and place in crock pot on top of vegetables.
Combine beer, chili sauce,, brown sugar, and garlic; pour over meat.
Cover and cook on high heat setting for 3 1/2- 4 hours.
Remove meat and drain vegetables.
Measure cooking liquid and add beer, water, or broth to make 1 1/2 cups.
Put reserved cooking liquid in a saucepan, and return meat and vegetables to the crock pot.
Mix 1/3 cup water with 3 tbs flour in a gravy shaker or jar and shake until smooth.
Stir into reserved liquid; cook, stirring constantly until thickened.
Serve sauce over meat and vegetables, sprinkle with paprika and garnish with parsley if desired.
Note: This can be baked in an oven-proof casserole rather than a crock-pot.
Bake at 350°F for approx 1 1/2 hours, or until meat and vegetables are tender.