Beer Braised Beef from a Crock Pot
Bergy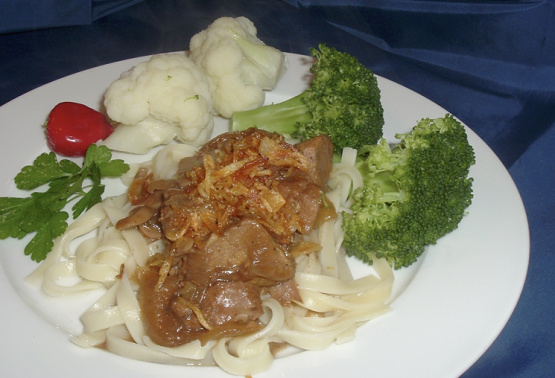 Don't worry about using beer when cooking. The alcohol burns off and you are left with flavor. It also tenderizes the meat.

This was an easy recipe, but not as flavorful as some other stew recipes. Thanks for sharing, though.
Cut stew beef cubes into 1 1/2 inch pieces. Place cubes in bottom of crock pot.
Combine all other ingredients and pour over beef.
Cook on Low for 8 to 10 hours or on High for 4 - 5 hours.
Before serving, you can thicken broth with some flour and water. Turn crock pot to high and stir in flour mixture.
Serve over cooked egg noodle pasta.
Note: I like to use Negro Modelo which is a dark Mexican beer for this recipe. The dark beer is really nice to cook with.